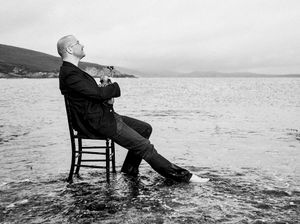 Bio
Born and brought up in the Shetland Islands, Chris Stout has, over the last few years, become nationally and internationally recognised as one of the most exciting and dynamic fiddle players and composers of his generation.  
Whether as a solo artist, one half of his duo with long time musical associate Catriona McKay or as a member of Fiddlers Bid, Chris continues to innovate within traditional and contemporary musical circles, delivering performances which excite and inspire audiences all over the world.  
Chris's restless ambition to collaborate and discover music from around the world has taken him to countless countries such as Brasil, Japan, Jordan, Algeria and Norway to name but a few. As well as working in traditional line-ups Chris has had very memorable performances with the B.B.C Scottish Symphony Orchestra, The Royal Scottish National Orchestra and the Singapore Chinese Orchestra.  
Having previously written music for 2 of the main orchestras in Scotland Chris was invited back to compose a new piece for the R.S.N.O. This was premiered in Shetland in March 2012 and again in Glasgow later that year.  
The 2010 album 'White Nights' with the extraordinary harpist Catriona McKay received fantastic reviews in the media and was described as "a stunning album – moving, spiky, joyous, quietly beautiful and truly inspired"  
In 2013 Chris was awarded the title 'Musician of the Year' at the Scots Trad Awards. An award Chris is immensely proud of haven been given. 
The 2017 album Bare Knuckle with Catriona Mckay won them crital appraise across the board and early in 2018 the duo were awarded the 'Best Duo' at the BBC Folk Awards.  
The formidable duo have taken their music all over the world performing and collaborating with the likes of the Russian Philharmonic Orchestra and the Trondheim Symphony Orchestra as well as countless Duo shows over the 20 years the pair have been performing together.  
2011 saw the release of 'Chris Stout's Brazilian Theory Live' a recording of an ambitious collaboration between Brazilian and Scottish musicians, which took to the stage in Glasgow during the Celtic Connections festival.  The concert was described in the Scotsman as "a gloriously exuberant and at times emotionally glowing collaboration."   
Chris continually composes new music for projects in which he is involved.   
Chris Stout has left few musical genres unexplored but his style remains grounded and a true musical ambassador to his native Shetland Islands.